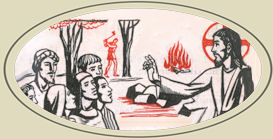 Last Sunday was of course the sixth and not the fifth Sunday of Pentecost as I stated erroneously last week, so on Sunday we celebrate the seventh Sunday of Pentecost.
There will be
no Mass
at St. Anthony's on Sunday as Fr. Abberton is retiring and these Masses have been discontinued.
We have two Masses this Sunday:
11.00 a.m. Sacred Heart, Broughton Hall, Skipton
12.30 p.m. St. Joseph's, Pakington Street, Bradford
Confessions at call.
At 2.00 p.m. at St. Joseph's there will be a Service of Marriage according to the liturgical books of 1962 when my eldest daughter will walk up the aisle with me to Pachelbel's Canon.
You are cordially invited to the ceremony.